How The Drug War and War On Terrorism Has Made Us Safer
Here's a look at our legacy from two incredibly expensive wars. One a prohibition wars that makes the US government a competitor in the organized crime business and the other an endless war on a tactic.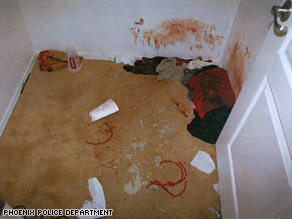 Torture a hallmark of Phoenix's drug kidnappings
PHOENIX, Arizona (CNN) -- Jaime Andrade had just gotten out of the shower when the men came to snatch him.
Jaime Andrade was kept in this closet for three days without food or water, police say.


His wife, Araceli Valencia, was mopping the kitchen in their family home on a typical warm spring morning in Phoenix, Arizona, "when she suddenly felt a hard object pointed to the back of her head and a voice in Spanish tell her not to move," according to a Phoenix, Arizona, police investigative report.

"I told you not to look at me!" Valencia heard one of the kidnappers bark as he struck Andrade across the head.

Her four children bawling, Valencia was hustled into a bedroom where an armed man fondled her and threatened to rape her if she didn't tell him where Andrade hid his money, according to the report.

After beating and binding Andrade, one of the kidnappers put a gun to Valencia's head. His message: We're taking your husband and SUV. We'll be watching your house. If you call the cops, he's a dead man.
**************************************************************
This is the safety we're paying for. This is what we got in exchange for our government robbing us of our freedoms and constitutional rights.
We can slaughter millions of people thousands of miles away, to make life better for Halliburton, but we do it by making life at home more dangerous.
And Obama has made it clear that he intends to escalate this violence by kicking the drug war up a notch. It won't be long before Mexico's problem runs rampant through our border states. Organized crime thrives in a prohibitionary climate. The bigger the risk, the bigger the rewards, the more intense the violence.
Then there's the problem of the CIA being in the heroin smuggling business. We can't end the illegal drug trade, so we have to fight a battle for market share. the CIA backs their violent drug lords, and other nations back their violent drug lords. Innocents are caught in the middle.
Thank you Reagan, Bush I, Clinton, Bush II and Obama. You've done a great job of destroying the country I love.